GCRB releases Cat® Equipment Order
Tehama has bagged the prestigious order for two numbers each Cat® 160M Motor Grader and Cat 966H Wheel Loader from the General Corporation for Roads and Bridges, Sana'a, Yemen. This order which was received in October 2012, will be completed in next 10 to 12 weeks.
Valuable Order from Yemen LNG
Tehama received a very valuable major order from Yemen LNG for a fleet of CAT equipments comprising of 4 numbers 583T Used Pipe Layers, 2 numbers D8R Dozers, 2 numbers 336 DL Hydraulic Excavator and 1 number 966H Wheel Loader. This was followed by an order for six numbers Olympian gensets
French National Day celebration 
The Embassy of France, Yemen celebrated the French National Day on 14th July 2014 in Sana'a. The Tehama Trading Co was one among the sponsors on this happy occasion. Mr Omar Thabet, General Manager of Tehama, Sana'a was received by Mr Franck Gellet, Ambassador of France at the venue.
The visitors appreciated the Peugeot Allure 301 which was kept on display.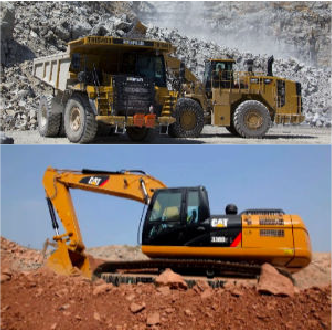 Cat Quarry Machines Order from NCC
National Cement Company, Lahj, Yemen, a Hayal Saeed Anam group company released following CAT Quarry Machines Order on Tehama Trading Co in July 2018:
2 * 775G
1 * 988K
1 * 330D2
For Tehama Trading & Caterpillar, this is a very prestigious order as this was bagged against tough competition from Komatsu in the very challenging time. Tehama had bundled their offer with Consumables & On-site Scheduled Service Support during the warranty period for this specific requirement.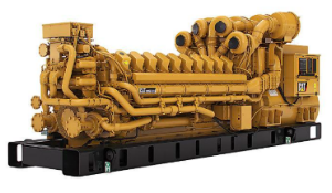 Tehama signs contract with Aden Port Development Co for C175-20
Tehama Trading signed a turnkey contract with Aden Ports Development Company, Yemen on 8th November 2017 to supply and commission one CAT generator C175-20, 2800KW Prime, 11KV 1500 RPM to Aden Container Terminal.
A very valuable order indeed for Tehama as this is the first C175 series genset coming into the country. This unit is expected to be delivered to ACT, Aden in November 2018.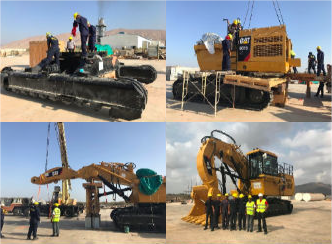 Kudos to Tehama Service Team: UCC 6015 FS Erection & Commissioning
Caterpillar supplied 6015 FS to Union Cement Co Ltd., Aden in containers as no 'Ro-Ro' vessels were calling Yemen ports. Tehama Service Team took this challenging job of assembling the knocked down unit at site and successfully commissioned the first Bucyrus CAT 6015 FS on May 24, 2017.
Great efforts by the Tehama Service Team in erecting the machine from scratch and delivering it to UCC as per CAT global standards. Click here to see the erection work!!
Veedol Lubricants, now in Yemen 
The Tehama Trading Co has signed up distributor agreement with Veedol International Limited, having its registered office in Glasgow UK, to market Veedol lubricants in Republic of Yemen. Veedol mineral oils are blended in UAE facility and Veedol Synthetic oils are blended in UK facility.
Veedol Passenger Car Motor Oil, Diesel Engine Oil, Gear Oil, Hydraulic Oil, Automatic Transmission Fluid, Greases are now made available in Tehama outlets in Aden, Hodeidah, Mukalla, Sana'a and Taiz.
Cat® Equipments for Waste Handling and Landfill applications 
Tehama has successfully commissioned and handed over a fleet of Cat® Waste Handling and Cat Landfill Equipment in the year 2012. The fleet comprising of 8 numbers Cat 914G Wheel Loaders, 2 numbers Cat 816F Compactors and 1 number Cat D6T Dozer was tendered by Japan International Co-operation System (JICS) under Japanese grant and were to be handed over to Ministry Of Local Administration (MOLA) Sana'a. Tehama with the support of Caterpillar was competitive and bagged the order against very stiff competition by partnering with Sojitz Machinery Corporation.
As a part of the delivery process, Tehama trained the MOLA maintenance officials as well as MOLA machine operators in Tehama's training center.